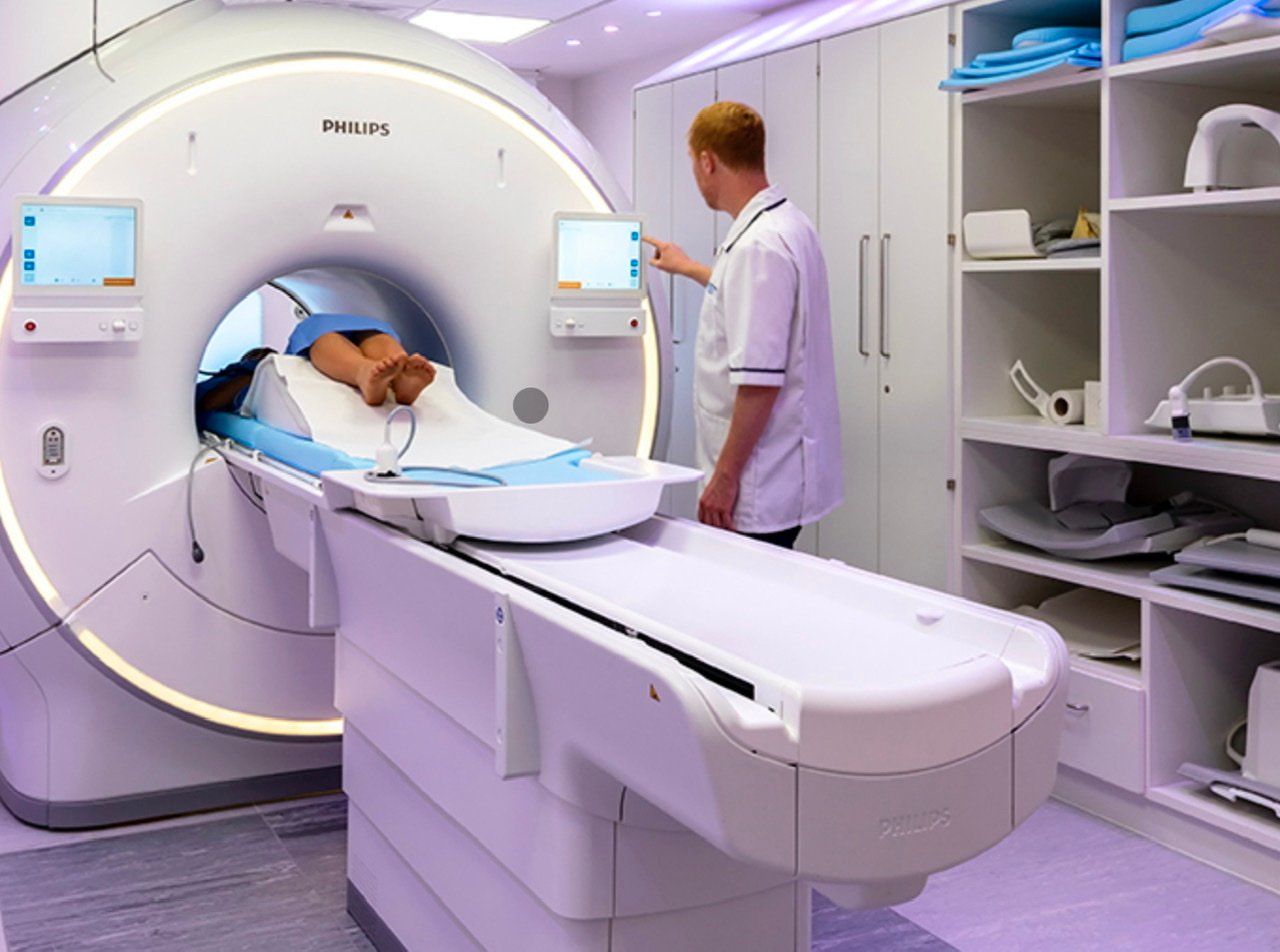 Our Full Body Scan (MRI Only) is a preventive health screening where your vital organs and main blood vessels are examined by using magnetic resonance imaging only. 
It is recommended for people aged 35 and over, and was designed to provide a comprehensive assessment of the current state of your health, helping to detect potential risk factors and any signs of disease by using advanced imaging techniques.
This screening package includes some of the most advanced scans in use today, known as MRI (magnetic
resonance imaging), a technique which uses radio waves and a computer to produce images of your body's internal
structures.
Your scan will take place at our state-of-the-art facilities in Harley Street, the UK's premier health district. When booking a Full Body Scan (MRI only), you are guaranteed to be seen by a team of highly qualified cardiologists and consultant radiologists, with many years of experience between them.
You will have the opportunity to discuss your results with one of our doctors during the follow-up consultation, which is included in the package. We are associated with a wide network of specialists who will be able to assist if further investigations or treatments are necessary.
For more information on each one of the tests included, please click on the name of the test below:
 
Full Body Scan (MRI Only) More about this program
Premier Full Body Scan
Pre-assessment consultation with a specialist doctor

This scan detects possible brain tumours, haemorrhages and structural abnormalities of the brain, as well as assessing the sinuses and orbits.

MRI Brain

This scan detects possible brain tumours, haemorrhages and structural abnormalities of the brain, as well as assessing the sinuses and orbits.

MRI Angiography (Carotid Arteries)

This scan looks for the narrowing or obstruction of the arteries inside the brain and blockages in the carotid arteries in the neck. It is capable of detecting aneurysms inside the brain's blood vessels, which can lead to haemorrhages and stroke.

MRI Abdomen (Upper)

Liver, gallbladder, kidneys, spleen and pancreas are scanned for any obvious abnormality/mass lesions or obstructions to the biliary and renal system. The abdominal aorta is assessed for aneurysms and any enlarged lymph nodes in the abdomen can also be detected.

MRI Pelvic (Lower Abdomen)

This scan is ideal for detecting any abnormalities in the pelvic organs including the male or female reproductive organs. The uterus, cervix and ovaries are assessed for any lesions and fibroids, adenomyosis and cysts in ovaries. In males, the prostate is assessed for shape, size and signal characteristics. It can also check for lymph nodes along the pelvic sidewalls and for bladder prolapse.

MRI Cardiac

The MRI Cardiac gives detailed pictures of the structures within your heart. It is used to detect or monitor cardiac disease and to evaluate the heart's anatomy and function in patients with congenital heart disease.

Follow-up consultation for discussion of your results

Coming Soon…

Medical Report

A full written report will be sent you by email together with a copy of your test results.

Price:
£ 3,020
Please note that the Full Body Scan (MRI Only) does not include extremity MRIs (limbs). These can be arranged as per your requirements for an extra cost.
Please note that we can only accept self-funding patients (insurance appointments are not available)

 

Or call us now 020 7580 3145